Skip to footer
Ethanol
Each year, as part of the Renewables segment, The Andersons refines corn into millions of gallons of ethanol, a low-cost, clean-burning, high-octane, renewable fuel product for refiners, fuel blenders, and convenience stores.
Our investment in ethanol is a natural extension of our core business competencies in grain operations, corn originations, and commodity processing. We are a significant investor in, as well as manage the operations of, The Andersons Marathon Holdings LLC, with four plants located in Albion, Michigan; Clymers, Indiana; Greenville, Ohio; and Denison, Iowa.
In addition to ethanol, these facilities collectively produce E-85, feed products, and corn oil, which is key to the renewable diesel industry.
Ethanol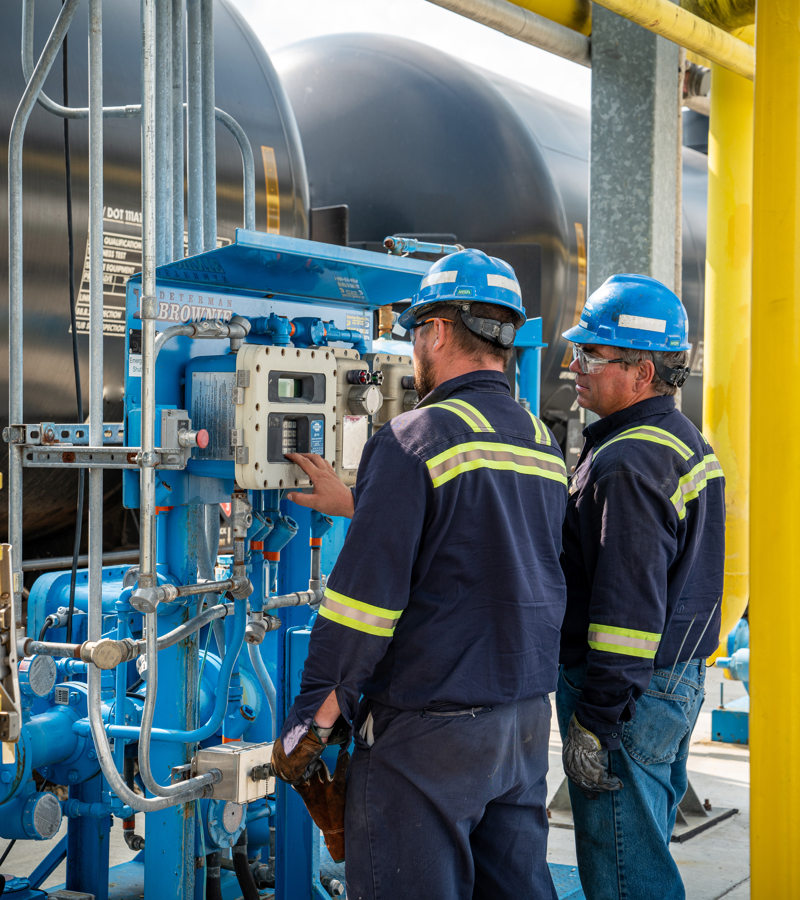 Services
For decades, The Andersons has been managing and operating its own grain terminals, processing plants, and feed mills and is adapting this experience to its ethanol investments.
Our plant operation capabilities include:
On-site construction management
Experienced team dedicated to facility management and highest level of safety
Environmental resources provided by professional full-time lab managers from The Andersons
Operate with state-of-the-art technology
The Andersons has been buying corn from American farmers for 75 years, so we know that cash grain value involves more than price. Logistics, space, spreads, credit, and execution are all significant factors in sourcing corn for an ethanol plant. We will ensure your plant is supplied with value-priced corn by means of our professional originations and comprehensive risk management service.
We provide the best balance between corn and ethanol producers. Our corn customers receive fair and flexible pricing options and our ethanol partners can depend on a continuous, dependable supply of corn.
Ethanol isn't new, but the demand for ethanol is rapidly growing. Our staff of merchants is familiar with the volatility associated with the commodity market and is actively trading ethanol.
With our established relationships in the petroleum and ethanol markets, we provide an added value to our customers through a risk management strategy along with an aggressive ethanol marketing program.
The Andersons experience in trading, rail transportation, commodity marketing, and risk management helps ensure profitability along with a complete management package for your ethanol business.
We want to be your partner in managing risk. Our objective is to create a comprehensive risk management program designed specifically to help minimize your risk and maximize profits for your ethanol business.
Grain Originations Risk: We can help to minimize cost, manage logistics, and assure reliable product delivery to optimize your operational expenses related to corn procurement.
Market Price Risk: Our price discovery, graphic modeling tools, cash grain expertise, and risk transfer execution give you the means to objectively manage risk.
Operational Risk: Our practical grain originations capability provides an assured, flexible flow of your top production input: corn.
Back Office Risk: Our proprietary grain management systems have been adapted to ethanol operations to assure cost-effective and secure contract management, customer settlement, and comprehensive reporting.
Products
We are a trusted distributor of high-quality E-85 fuel for U.S. retailers.
We currently have a supply agreement with a major liquified CO2 and dry ice provider that turns the CO2 into liquid CO2 for beverages as well as dry ice for food (frozen food, catering, etc.) and cleaning (ice blasting) applications.
Corn oil works well in industrial, feed, biodiesel, and renewable diesel applications and is competitively priced against other alternative products which allows for better economics.
We partner with other companies to provide feedstocks used to produce renewable diesel, resulting in reducing carbon emissions and delivering strong performance.